Our Heathwood Cabins are the definition of premium Western Pennsylvania cabin camping. With comfortable sleeping accommodations and special amenities that will feel like your own home away from home, you can't go wrong when booking this cabin type. Keep reading to discover the top features of our Heathwood Cabins and why you should consider booking one for your next camping getaway at Jellystone Park™ Kozy Rest!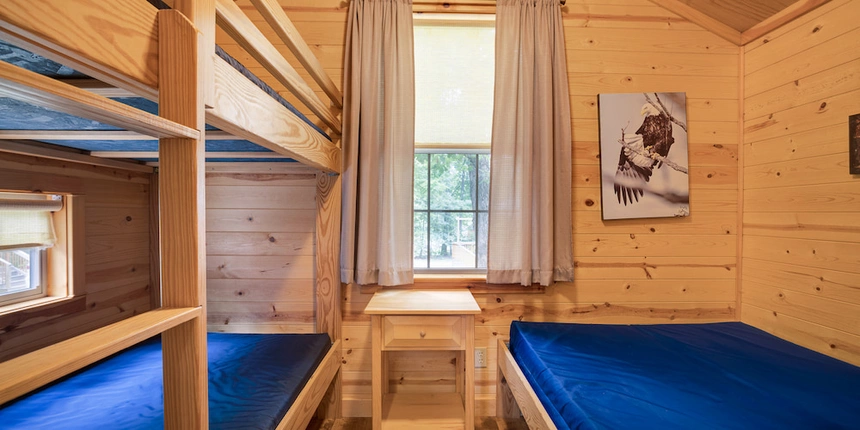 Sleeping Accommodations
There's no need to rent multiple cabins in order to fit the whole family. Our Heathwood Cabins can sleep up to 7 people! Sleeping accommodations range from a private bedroom with a twin bunk bed and queen bed, a sleeper sofa located in the living room that can fit 2 people, and a loft with 2 twin mattresses. As you can see, this cabin type is spacious and offers sleeping arrangements that are great for kids and adults alike!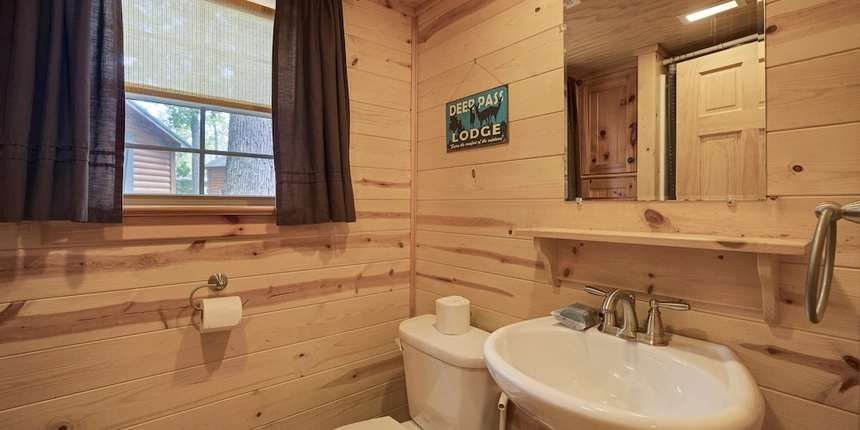 Full Bathroom
A private bathroom inside your very own cabin?! Yes please! Our Heathwood Cabins have a full bathroom that includes a bathtub, toilet, and sink. Although many of our Heathwood Cabins are just a short walk away from a Comfort Station, this amenity is great for those with little ones or for those who just want their own private bathroom.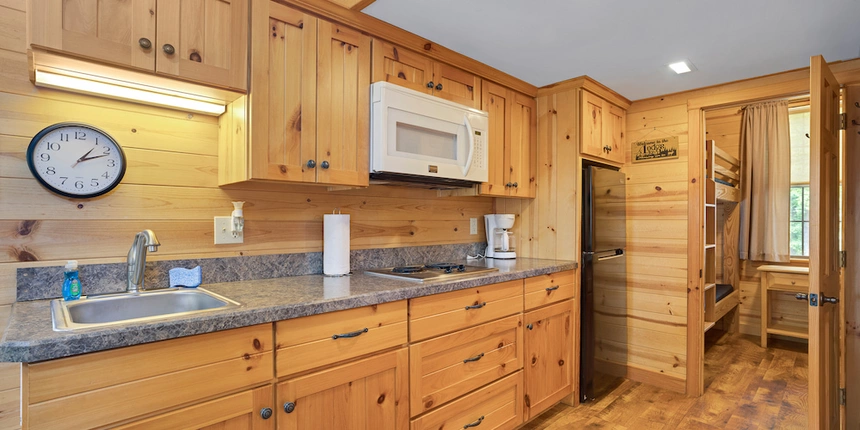 Full Kitchen
Whether you decide to meal prep or wait to make dinner at your site, this cabin type offers a full kitchen for all your cooking needs. Equipped with a stovetop, fridge, kitchen sink, coffee maker, microwave, and plenty of cupboard space, your time at Jellystone Park™ will be a breeze from breakfast to late night snacks! Plus, we include a variety of pots & pans, plates, silverware, mixing bowls, and other cooking utensils that you may need during your stay. Talk about the best Pennsylvania cabin rental ever!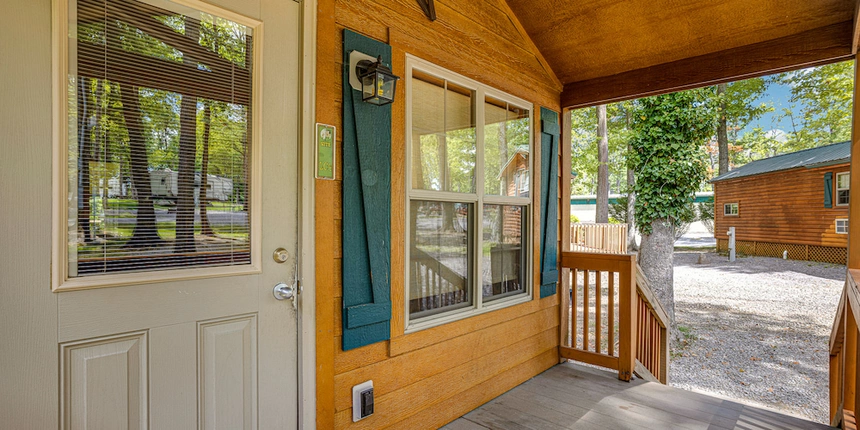 Other Special Amenities
In addition to the wide variety of sleeping accommodations, the full bathroom, and kitchen, our Heathwood Cabins also include other amenities that will make you feel at home. This cabin type is equipped with a large front porch - perfect for sipping on your morning coffee or stargazing! Each Heathwood Cabin also includes a fire ring, picnic table, and charcoal grill for the ultimate camping experience. Do you need anymore convincing to book this cabin type?!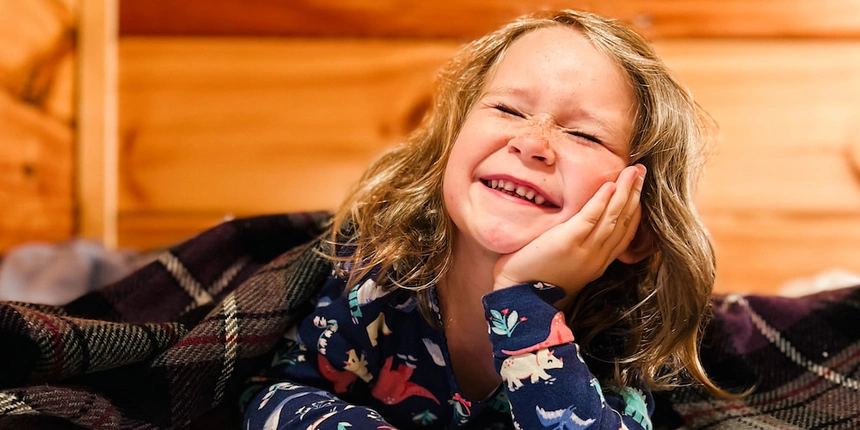 Includes AC/Heat
Just like all of our other cabin options, our Heathwood Cabins have heat and A/C. This way, you can cozy up inside your cabin after a chilly night around the campfire, or feel rejuvenated as you walk in with the A/C blasting after spending a day in the Pennsylvania heat. It's the best of both worlds!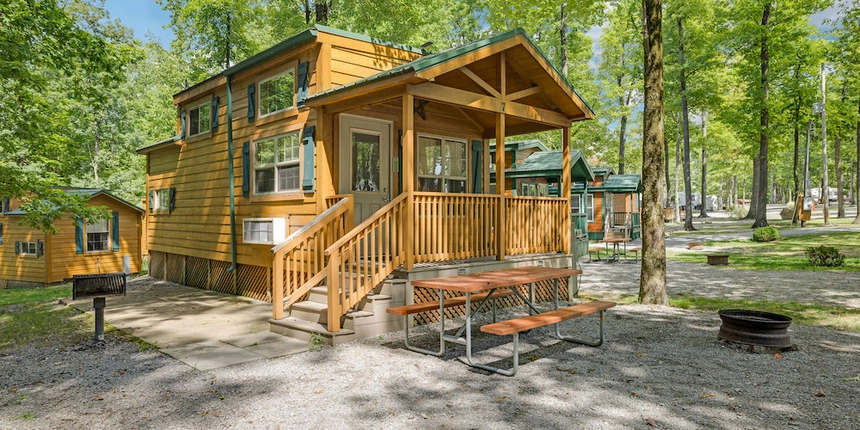 Ideal Location
Our Heathwood Cabins are located just a short walk away from our attractions, offering more privacy. They are closest to attractions like beanbags, horseshoes, and Gaga Ball, making these cabins a great choice for those who aren't looking to be by all the action.
View where each of these cabin options are located on the Camp-Resort Map.
Whether you're looking for the best cabin rental in Western Pennsylvania, an accommodation that can fit the whole family, or a cabin that includes a full bathroom and kitchen, our Heathwood Cabins are a great choice to meet your needs. You can learn more about all of our cabin types here, or if you're ready to book you can book online or give us a call at (724) 735-2417. We look forward to seeing you soon, glamper!